Oct 25, 2007

KIRBY ATKINS, character animator and one of the director of the box office hit-movie, "Jimmy Neutron: Boy Genius" and TV series 3-2-1 Penguins. He is a Union alum who has been very successful in 3-D animated entertainment, and is currently working on an animated feature film that has a working budget of $39 million (he is the director, and Union alum Julian Williamson is the editor). In 1999, he won Best Animated Shot Award from the Hollywood Film Festival for his short-film, "MUTT." He writes film scripts and has sold scripts to Miramax and New Regency.
Nov. 1, 2007
DAVE HINMAN is general manager of WLJT-TV/DT, public television for West Tennessee. Hinman has been a broadcast professional for nearly 40 years - starting as a 12-year-old disc jockey in Rock Springs, Wyo. He has worked in nearly every radio and television station capacity, except for engineering. He holds a bachelor of arts in Journalism and Broadcast Production from Brigham Young University, and an MBA from Indiana University. In addition to managing WLJT, Hinman produces and hosts a weekly magazine program called "West Tennessee Journal."
Nov. 8, 2007
JEANIE ADAMS-SMITH, professor of visual communication at Western Kentucky University, former photo editor of The Chicago Tribune for 10 years, recipient of the Knight Fellowship in Newsroom Graphics Management from Ohio University, winner of numerous photojournalism awards including top honors in the University of Missouri School of Journalism's "Pictures of the Year" competition for her work titled, "Living Under Pressure," dealing with children of divorce that was published as a book, "Survivors: Children of Divorce," a four-year project that involved 22 families and eight programs helping children of divorce.


Nov. 15, 2007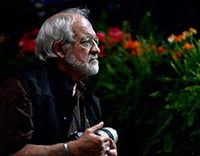 BILL BANGHAM, director of editorial and photography at the International Mission Board, is a photojournalist, writer and editor. He is a former editor of three national magazines and has worked in more than 70 countries and received awards in writing, photography and design in both secular and religious competitions, including the University of Missouri International Pictures of the Year competition and the National Press Photographers Association Best of Photojournalism competition. He is a founder of the American Belarussian Relief Organization, a non-profit agency that assists children exposed to radiation from the Chernobyl nuclear disaster.
Nov. 29, 2007
GARY MCCORMICK, APR, Fellow PRSA, Director of Public Relations for DIY Network and Fine Living TV Network, two of the cable lineups for Scripps Networks. He directs the networks' media relations and special events, including DIY's partnership with Habitat for Humanity International. He is responsible for the communications strategy and public relations support for these innovative networks providing cable, on-line and on-demand video programming with DIY providing how to instruction for home improvement, gardening, automotive, crafts/hobbies and woodworking enthusiasts and Fine Living delivering programming on home life, buyer's resources, and life's adventures. He currently serves as the President of the PRSA Foundation, is a former member of the national board of directors and is a co-chair for the Champions for PRSSA (student society).
KATHI LANDON LEATHERWOOD has served as the Executive Director of the Jackson Arts Council since December 2000. For the first 15 years of her professional career, Kathi was in Advertising, Marketing and Public Relations, working for companies such as J. Walter Thompson Advertising Agency, Shoney's, Inc., and Pizza Hut in Atlanta, Nashville and Memphis. Her career shifted to community service in the arts, and prior to coming to the Council, Kathi was Vice President of Watkins College of Art and Design in Nashville, Tennessee for eight years. Kathi spent her childhood in Humboldt and graduated from UT at Knoxville with a BS in Communications, majoring in Advertising. A 2003 graduate of Leadership Jackson, Kathi was the State Chairman for Arts Advocacy Day in 2004, the same year that she and the Jackson Arts Council were recognized as a state finalist for the Marvin Runyon Leadership Award. Kathi has served as a grants panelist for the Tennessee Arts Commission and served on the Madison County Quality Control Team. Currently, Kathi is a member of Americans for the Arts, serves on the Executive Board for Tennesseans for the Arts, is on the Board of Rotary, and Chairs the Public Buildings Committee.
---